Vilnius Chamber of Commerce, Industry and Crafts (Vilnius CCIC) is a wide network of Lithuanian business representatives and community that unites over 550 Lithuanian companies from different leading business sectors as well as universities, colleges and other educational institutions.
The mission of the Chamber is to represent business interests at state and regional authorities, as well as to provide services necessary for business enterprises. What is more, Vilnius CCIC is a social partner for state and regional governments.
Vilnius CCIC is located in the most developed region in Lithuania, in the capital city Vilnius. Together with Alytus and Ukmerge branches, Vilnius CCIC is an organization that unites the business community in Lithuania, operating in accordance with the Law on Chamber of Commerce, Industry and Crafts of the Republic of Lithuania. Vilnius CCIC has taken over and holds on the traditions of the institution set up in 1925.
Combining modern management, technologies and human competences the Chamber strives to become one of the most advanced, strongest and most successful business communities in Lithuania, whose main goals are:
      • strengthen the competitiveness of enterprises
      • improve the business environment
      • bring together and strengthen the business community
      • create harmonious society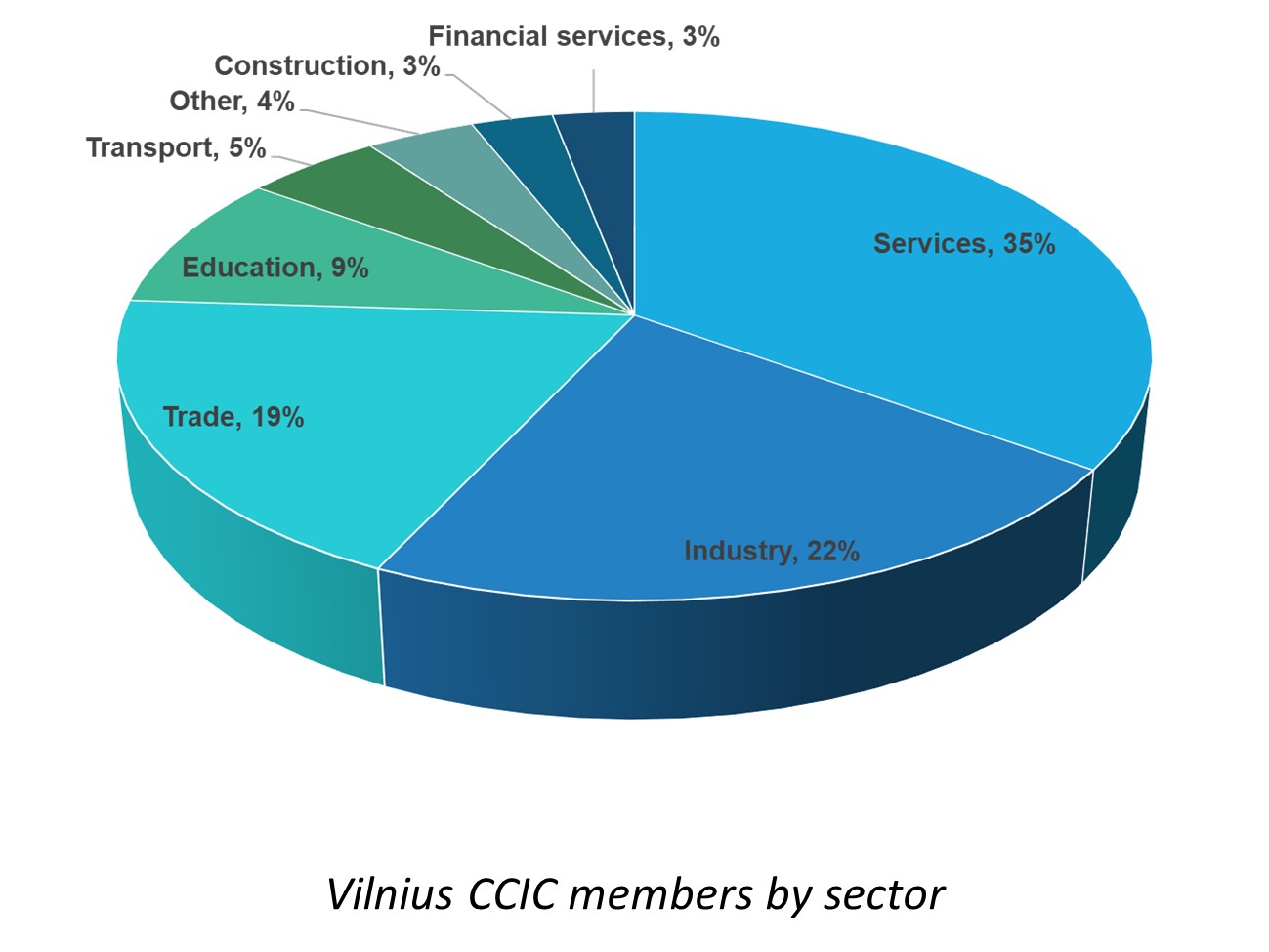 Vilnius CCIC offers the following services business enterprises:
      •  Issues certificates of origin and certificates of force majeure
      •  Approves the authenticity of documents used for foreign trade
      •  Consults the members of the Chamber and Lithuanian companies on the issue of customs duties, certificates of origin, ATA carnets
      •  Helps member companies to find business partners abroad (business enquiries, offers, incoming missions)
      •  Announces business offers from foreign companies
      •  Organizes trade missions
      •  Organizes the attendance and participation at international exhibitions and fairs abroad
      •  Organizes conferences and seminars
      •  Participates at regional and international projects
      •  Provides business consultations
      •  Etc.
Vilnius Chamber of Commerce, Industry and Crafts has a long practice in consulting businesses, both companies and persons who work on their own. Consulting areas varies from business creation to business transfer or shutdown. VCCIC also has deepened valuable experience in business development services, e.g. export promotion, raising competences of personnel, clustering, etc. though project implementation. VCCIC is also working in the field of business environment improvement and has a wide range of partner organisations, close contacts with regional and state institutions. VCCIC is involved in different work groups related to improvement of business conditions and environment in the region in Ministry of the Economy and Innovation of the Republic of Lithuania. With all experience and competencies, VCCIC joined the INBETS project team to create entrepreneurial outputs for business promotion, successful business transfers and regional economic growth.